We are not COVID testing at PFGP.
Please see button below for your nearest location:
Boosters
We will not be doing COVID Boosters until mid February 2022. Please check our website for appointments in early February. If you require a booster before then please book at a government hub via the link below.
Digital Certificate
Once you've completed both doses, you can get your COVID-19 vaccination digital certificate by clicking on the link below.
COVID-19 Vaccine Information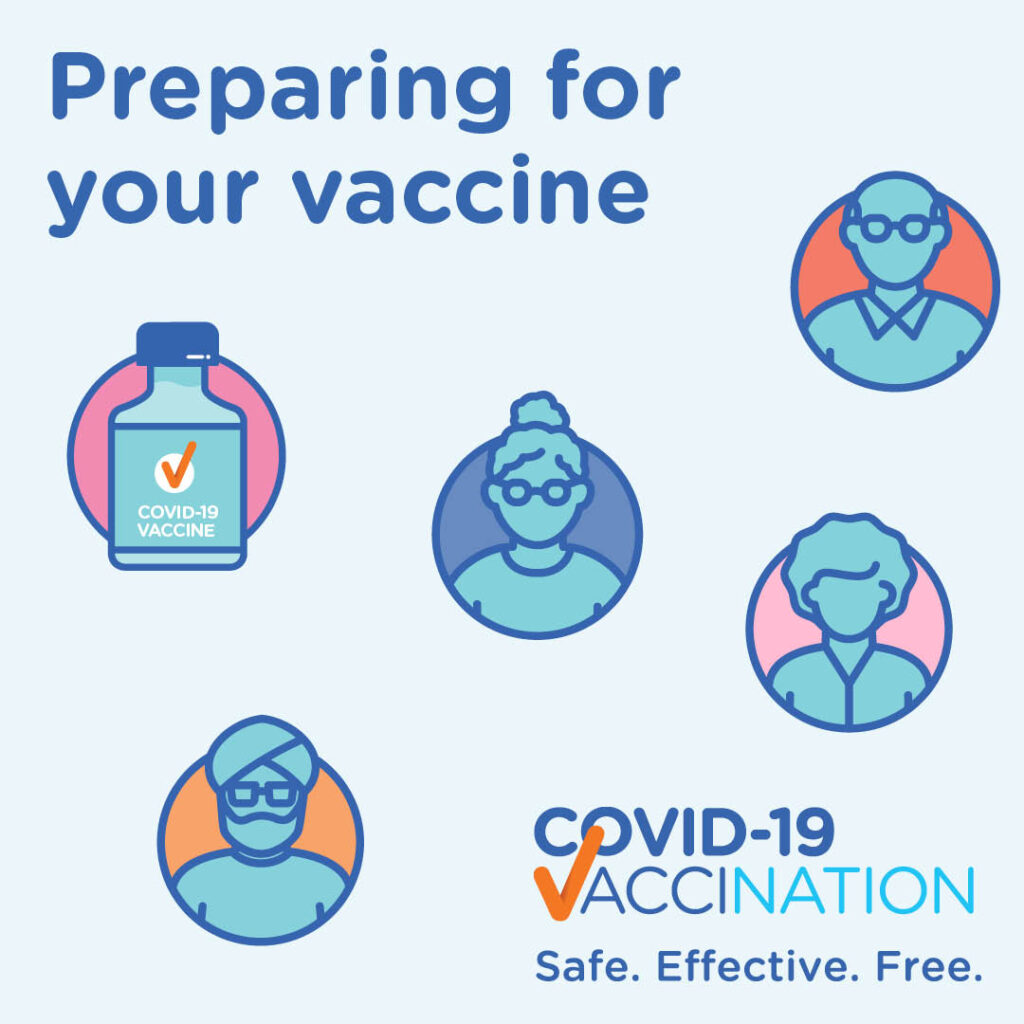 If you have concerns about any symptoms after your vaccine. The checker is also available through the National Coronavirus Helpline, 1800 020 080, 24 hours a day.
There are things you can do ahead of your COVID-19 vaccination to get ready and stay safe.
After you COVID VACCINE:
After receiving any vaccine, you may experience minor side effects. Most side effects are mild and last no more than a few days.
Common reactions to COVID-19 vaccinations include:
We are pleased to announce that we have been selected by the Australian Government to supply the Phase 1B COVID 19 Vaccines from mid April 2021.
When will the vaccine be available?
At this stage, we are anticipating the vaccines to be available from the middle of April, but we do not have a definite date yet.
Who is eligible for Phase 1B
The following patients are eligible for the Phase 1B COVID 19 Vaccination Program:
Elderly adults aged 70-79 years
Other health care workers
Aboriginal and Torres Strait Islander people > 55
Adults with an underlying medical condition, including those with a disability
Critical and high risk workers including defence, police, fire, emergency services and meat processing
Can I book an appointment now for the COVID-19 Vaccine?
You can now reserve your COVID-19 Vaccine online. We will contact you via SMS when your reserved vaccine becomes available to book.
Please note: the COVID-19 vaccine clinics are to receive the vaccination only – if you have any questions or concerns about the vaccine, please book a standard consultation with your regular doctor first to discuss.
How many doses are needed and when?
The COVID 19 Vaccine is administered as two doses delivered 12 weeks apart.
How long do I need to wait between the flu and Covid vaccines?
The Australian Government has recommended a gap of at least TWO WEEKS between the flu and COVID vaccines. It does not matter which vaccine is given first.
How much does it cost?
The COVID 19 Vaccine is provided and administered at NO COST to all eligible Medicare Card holders.
Is the COVID-19 vaccine safe?
Yes, the COVID 19 vaccine has been carefully assessed by the TGA and has been approved for use in Australia.
COVID-19 Vaccines for people 60 years and over with medical conditions
Information on vaccine eligibility for people aged 60 years and over with underlying medical conditions